The Guide to Morocco Desert Tours 2023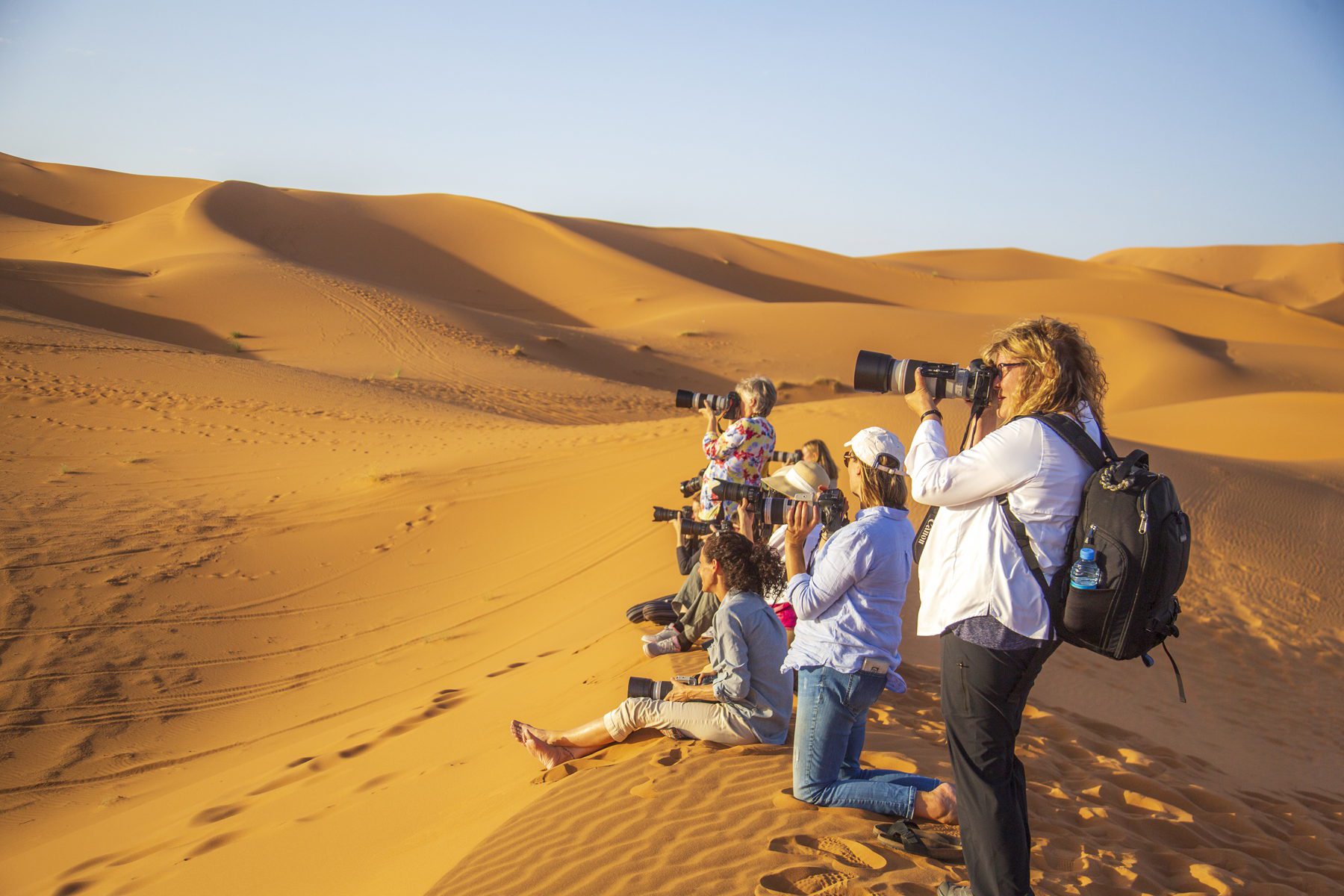 Morocco desert tours have been growing more popular in the last few years. It has become many travelers' dreams.  If you are planning a Morocco desert tour here is the information to consider while planning your adventures and journey. This guide covers topics that most travelers ask about. Hopefully, it helps you to plan a Morocco desert tour that is just perfect for you. 
Where is the Desert located in Morocco?
The Sahara desert is running roughly north-south along Morocco's eastern border with neighboring Algeria. This is the world's largest hot desert. InTheahara covers an area roughly the size of the entire United States. The location of the desert is remote and it can take long hours to get there. 
Is there a Desert in Marrakech?
Marrakech is often described as a desert city however; its climate is found much closer to the Mediterranean climate. It does receive less rainfall than a typical Mediterranean area but, it's wetter than a desert climate. Marrakech is rather considered the main door or gateway to the Sahara Desert. Red City receives millions of visitors each year to start their long desert journey towards Zagora or Merzouga desert region. 
Interestingly, there is the Agafay desert which is located only 40 minutes away from Marrakech. However, it is often referred to as a stone desert, a rough, dry, moon-like landscape that offers a beautiful landscape and can be linked to a desert-like environment. Not to disappoint you, the Agafay desert does not have the big, rolling, and golden dunes that you may imagine; it's considered a desert environment with a rockier surface. Agafay becomes a favorite destination for weekenders from Marrakech because of its closeness to the city. This destination makes still a great Morocco desert tour choice when time is the concern and you can't travel to the less accessible Sahara desert. Agafay desert is still a beautiful environment to experience minimalistic vistas, breath-taking sunsets along with dinner in Bedouin camp. Perhaps enjoy a camel ride while witnessing High Atlas Mountain vistas on the horizon. 
How far is the real Desert from Marrakech?
The main dunes in the Sahara desert are the Erg Chebbi and Erg Chigaga dunes. Each destination offers a wonderful experience while Erg Chebbi dunes are much more accessible. This area offers modern accommodations right at the foot of the dunes in the desert town of Merzouga. It is a tourist town that has many restaurants and shops as well.
The Erg Chigaga dunes are located more off the beaten path, therefore, offering travelers a bigger adventure. The dunes are located about 60 km from the nearest town M'hamid and are accessible only by 4×4 ride through a rocky and bumpy road. Travel time is about 2 hours by car and ½ day camel ride through the rocky desert until you reach the great dunes. Erg Chegaga is much harder to access due to its remote location however, it adds more charm to your adventure. 
From Marrakech to Merzouga is roughly 370 mi (600 km). This is around a 10-hour drive one way, that depends on your stops and driving ability. From Marrakech to Zagora, the Erg Chigaga dunes are approximately 370 mi (360 km). These drives take you over mountainous and winding roads, highways, and rural and village roads. Just keep in mind along your drive you may want to slow down because there are many things to see and experience before you reach the desert. You will encounter many scenic landscapes, colorful Berber villages, and interesting cultural experiences which you may want to discover further. 
How to get to the Sahara Desert?
There are a couple of different ways to visit the Sahara desert. It all comes down to personal preferences and your travel style. If you are a seasoned traveler and speak some Arabic or French it's possible to travel independently. You could rent a car through a rental company and plan a 2-day drive to the desert. We recommend spending a night in the Atlas Mountains because of the long drive.  
The second option is to take a route with public transportation by bus. The downside of this option is, that the long drive and therefore, the journey could be exhausting. Also, it's hard to move around without the car once you get to the desert. 
The third option would be traveling with the tour company which is a good idea to maximize your time.  This option is convenient and you will have a bonus which is a community connection. This choice is also safer and more reliable for female travelers. 
With the private tour, you will be able to get a deeper cultural experience. You will have a chance to interact with the local people and experience countries hidden points. Traveling with knowledgeable guides makes your desert trip easy and convenient.  If you decide this is the way you like to take your Morocco desert tour, contact us we are here to help and guarantee you the best Morocco desert tour you wish for. We offer many different tours to choose from and please keep in mind all tours are customizable according to your wishes. 
Where to start and end the Desert trip?
As said above Marrakech is the main door to the Sahara Desert therefore, it's a good idea to start your journey from the red city. There is a wide variety of public and private transportation options available to choose from for your desert adventure. Furthermore, many tour companies are based in Marrakech due to its tourism aspects. The majority of tours end in Fes which is another big touristic city with a lot to offer. It's a good idea to start your trip from Marrakech to visit the desert and end the tour in Fes or wise versa. You can also start the tour from Fes if you are in the northern parts of the country and end it in Marrakech. Turning this route, in either direction you have the opportunity to see 2 imperial cities Marrakech and Fes, the High and Mid Atlas Mountains, the Sahara desert, palm groves, and cedar forest. 
What is the best time to visit the Sahara Desert?
The best time to visit the Sahara desert is in spring (March-May) and fall (October- November). These times of the year country has nice mild temperatures.  Winters in Sahara can get cold and the temperature in the winter months (December-February) can drop below freezing at nighttime. However, this time of the year sky is the clearest which offers wonderful background for picture taking. You could wear layers and the desert could still be fully enjoyed.  
The summer months (June-September) temperature can get hot with highs crossing 120 degrees Fahrenheit (50 degrees Celsius). Turning the summertime visit you could experience sandstorms which makes visibility harder. On the other hand, in summertime close to the sunset and early mornings, the weather can be quite pleasing while the desert cools down. 
What can you do in the Sahara Desert?
Few places in the world compare to the incredible landscape you will see in the Sahara Desert. Just slow down, relax, and admire the uniqueness of rolling dunes because this unique environment is a rear place in the world. There is a saying once you visit the Sahara Desert, you will never be the same anymore.
Here are activities you can enjoy turning your visit: 
The sunrises and sunsets are gorgeous and worth being awake

 

Stargazing offers an unforgettable experience in Sahara

 

Quad or 4×4 jeep adventure in dunes is a thrilling experience

 

A camel trek through dunes offers a wonderful and peaceful adventure

 

Try Sandboarding

 

Bonfire with Berber music fills your soul

 

Visit nomadic families and learn about tribes' way of life

 

Listen to Gnawa Music, the desert is the real home of Gnawa music. Visit the village of Khamlia where you can listen to these desert grooves.

 

Explore the dunes, let sand through your fingers, get creative, and take some beautiful pics to great memories

 

Explore ruins in 

Sijilmassa,

near Rissani. This ruin was once the most important trade post, connecting Morocco across the desert with Egypt, Sudan, and Ghana.

 

Shop local markets. In Rissani there is the biggest market in the region on Tuesday, Thursday, and Saturday while Zagora has a vibrant market every Wednesday and Sunday.

 
How many days to visit the Desert in Morocco?
Visiting this remote, unique location and spending a night under the stars is often once in a lifetime opportunity. Therefore, it's recommended to spend at least 2 nights in the desert region to truly experience the amazing environment and way of life in the Sahara. With two nights you can explore the area, immerse yourself to slow based desert life and at the same time enjoy activities in the area. We recommend staying one night at a Bedouin camp on the dunes and another night at a riad or hotel in the desert town.  
What to back for the Morocco Desert Tour?
This depends on what time of the year you are traveling. As discussed above, summers can get very hot and winter temperatures at night can drop below freezing. So, you should back accordingly. You should bring a light jacket for cooler evenings, comfortable shoes sneakers or sandals to walk in the sand, and a scarf to protect yourself from sand and sun. There are many shops and markets on-road and Sahara which sell a huge variety of beautiful scarves. You may like to purchase one, they are quite affordably priced. It makes also nice souvenirs to take home. 
It is worth mentioning that Morocco is a conservative country and especially in rural areas therefore, female travelers should dress modestly. Other recommended items to bring with you are sunscreen, sunglasses, cash, and a battery back for your phone to have enough charge to take beautiful desert pics.